Garden to Table Dinner
with Darcy Williamson
August 27 & 28, 2021
5:00 – 8:00 pm Mountain Standard Time
$50 per dinner
Choose your evening or come for both.
Featuring a special dinner of fresh garden produce, creative Darcy flavors, and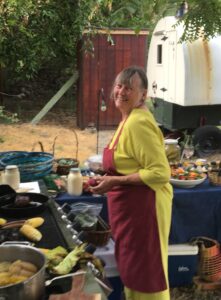 pasture-finished meat from 7U Ranch.
Guests are invited any time to relax and enjoy the Haven. Garden drinks will be served at 5:00 pm MST followed by harvesting and appetizers with dinner at 6:30 pm. Please bring your own preferred beverages.
Guests are also invited to sleep over one night or the entire weekend. Private accommodations are $75/one night, $65/multiple. Breakfast fixings included. Camping $25 night per person. Please note the property is not appropriate for dogs and children.

Please reserve your seat by calling/texting Renee at 208 630 4913 or email [email protected].
Please make checks payable to Darcy Williamson.
Entrees
* Shrimp & Garden Stir Fry w/Candied Ginger on Thai Lime Rice
* Poulee Yassa–lime marinated grilled chicken on sauteed cabbage and red onion
* BBQ Baby Back Ribs, side of Blue Corn Hush Puppies
* Tri-Tip with Chunky Mashed Potatoes
Sides
* Fresh Tomato/Cucumber/Red Onion Salad
* Curry Stuffed Haven Eggs
* Roasted Garlic
* Grilled Zucchini
* Fried Green Tomatoes
* Side of Blue Corn Hush Puppies–ground your cornmeal!
* Pickled Beets and Green Walnut Pickles
Beverage
* Cucumber-Lime Shrub
Dessert
* Flourless Dark Chocolate Cake with Red Plum Sauce
* White Chocolate Pumpkin Cheesecake
* Nocino