About Us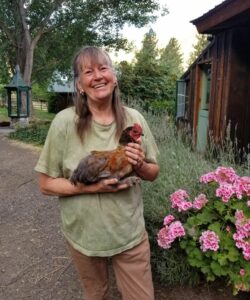 Mavens' Haven was founded by Master Herbalist Darcy Williamson.  An Idaho Native, Darcy began treating animals with wild plants when she was five years old.  For over 30 years she has been writing books and teaching classes throughout the Rocky Mountains on identifying, sustainably harvesting, formulating, and using medicinal plants.
Darcy's From the Forest studio in McCall provides herbal education and formerly a product line of medicinal herbs and seeds from local forests. Mavens' Haven extends her vision of sharing knowledge, the role of a Maven.
Mavens' Haven is supported by an extensive group of talented and dedicated Mavens.
Subscribe
Join our list and get updates on happenings and events at Mavens' Haven.
Directions
From Riggins, Lucile is a few miles north on Highway 95.  After the Lucile Boat ramp, drive another 1/2 mile and turn left at the sign.  Take the RIGHT FORK at the split.  Continue past the Pickleball Court and GO STRAIGHT instead of up the hill to Route 95.  Pull in and park in any open space.