October 31 & November 1, 2020
Start getting ready, 'cause we've already made ketchup, relishes, and sauerkraut for a fancy sausage roast over a bonfire.
Please arrive Friday night or Saturday any time. Breakfast is on your own with Haven eggs, and we'll keep a pot of soup warm all day. Guests are invited to bring supplies for the vegetable carving and broom-making extravaganza.
Happy hour Saturday begins at 4pm with warm brews and the admiring your costume!
Costume Prizes this year include:
* One night in a sheep wagon or bed of your choice
* Special Haven gift basket
* Trio of books by Darcy
We'll get the sauna fired up in the afternoon and light luminaries at dark to help bring the ancestors home.  Darcy keeps asking if we're going to dance on the bridge, so include some layers in that costume.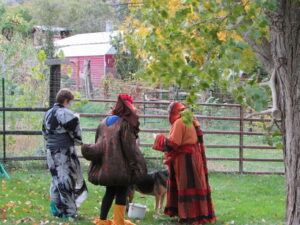 Dinner will feature a garden bonfire, sausages on roasting sticks, those homemade Haven condiments, warm autumn side dishes, s'mores with real homemade marshmallows, and mulled elderberry beer.
Event fee of $25 per person includes Saturday soup, bonfire dinner, and sauna.  Guests are invited to bring personal beverages.
Private accommodation or Silverstreak $75 one night; $65 per night for multiple nights.
Bungalow $25 night per person.
Due to water hazards and fragile items in the house, we are only able to host teenagers and adults. We prefer no dogs, and if they must accompany you, please keep them in your car or accommodation.
Email Halloween Party Registration Form to [email protected]
Name(s):
Phone:
Accommodation(s) first choice:
Second choice:
Date range you wish to reserve your bed:
Questions and requests:
To hold your accommodation, please send a $50 deposit to:
Or drop at Renée's office at CUB, 114 N. Third, McCall.
Guests arriving by broomstick are advised of heavy winds in October.