Saturday, June 10, 2023
with Renée Silvus and Lyndon Hope
a la carte pricing below
It's such a gorgeous spring in Lucile that we want to share the beauty. Our calendar also opened up, and with the short notice, we're hoping you can get away for even one night.
Join us to rest and recharge, have someone else prepare your meals, enjoy some guided and solitary practice, and receive some spring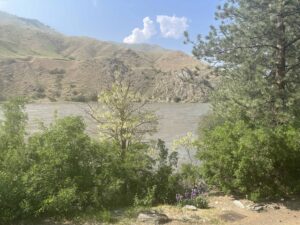 goodness from the Haven.
This will be a loosely-held weekend where you are invited to arrive for the times and activities that suit you. Most of the weekend will be space for you to relax, take a break, engage in your own practices, and simply rest.
All meals will be available on buffet in the times given. Meals will be prepared from the Haven greenhouses, orchard, garden, pantry, and eggs.
Add-on Friday, June 9
Arrivals from 4:00 – 8:00 pm
Light dinner 6:00 – 8:00
Saturday, June 10
Breakfast 9:00 – 11:00 am
Arrivals 11:00 am – 4:00 pm
Lunch 1:00 – 2:30
Yoga asana with Renee on the lawn 4:30 – 6:00
Guided meditation 6:00 – 6:20
Light dinner 6:30
Sunday, June 11
Yoga asana with Renee on the lawn 8:00 – 9:30 am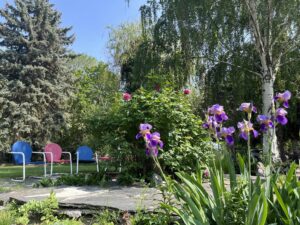 Guided meditation 9:30 – 9:50
Breakfast 10:00 – 11:00
Depart to hike Slate Creek Trail 11:15 with packed lunch
Lunch also available at the Haven, on your own
Add-on Sunday night
Light dinner 6:30 pm
Monday Breakfast fixings available, on your own.
a la carte pricing includes meals and activities
Individuals
Saturday private lodging $195
Friday/Sunday $80 per night
Saturday shared lodging $150
Friday/Sunday $50 per night
Couples
Saturday $295
Friday/Sunday $100 per night
To hold your space, please send the following to [email protected]:
June Yoga and Meditation Overnight Registration
Name:
Phone:
Accommodation first choice:
Second choice:
Dietary restrictions:
Questions:

About Renee
I bring a blend of perspectives as an educator, coach, and facilitator. I offer coaching and classes with Luminaire, community space and events at Community Hub McCall, yoga classes at Enliven, and retreats at Mavens' Haven. 2023 brings my tenth year of offering events at the Haven.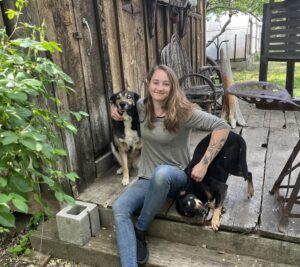 About Lyndon Hope
I am the caretaker at Mavens' Haven. My interests include all things nature and the grounding bliss the world has to offer. I am passionate about creating and maintaining sacred space for myself and others who feel called to gather for healing and embodying the human experience.
I enjoy fixing things, working with my hands, finding solutions in uncomfortable situations, caring for animals and people alike, and nurturing the world around me. I am also nourished by foraging, rocks, and soulful music.