September 9 – 12, 2022
with Charlotte Dietz
$450
A full moon weekend retreat: The intention of our retreat is to practice, move, align, and harness qi/prana for optimal health and well-being.
It is our hope that each participant will leave the retreat feeling more in control of their energy, responses, creations, or conscious reality. At the very least, we will leave with tools needed to take steps in this direction.  We will be creating a space for play, imagination, wild mind, and joy while working with energy and while creating intentions under the Full Moon.  An expressive retreat, this is coupled with fire, music, and dancing in the evenings for creative expansion.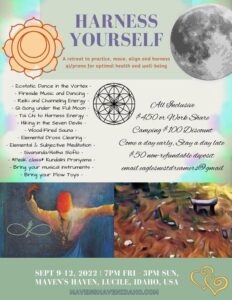 The retreat is all-inclusive at $450, all meals and activities, and a discount of $100 is applied to any guest who chooses to camp instead of using the lodging on site. You are invited to stay a day late or come a day early if you are traveling from far away. There are work-trade options to those who inquire and have a need.
Our list of activities currently include and are not limited to: Ecstatic Dance, Reiki and Channeling Energy, Qi Gong under the Full Moon, Fireside Music and Dancing, Hiking in the Seven Devils and Vortex Areas, Group Shavasana and Tantric Energywork, Wood-Fired Sauna, Elemental Dross Clearing, Subjective Meditation, Hatha Slow Flow, Kundalini Pranayama, and more. Highlight offerings will include group shavasana and bodywork, as well as a breathwork ceremony to support your heart taking over your mind.  Personal sessions are available for an added fee.
Bring your musical instruments and bring your flow toys!
About the facilitators: We are all coming into our mastery with energy and with conscious creation, from the depths of the subconscious to the rising of the super conscious
Charlotte:Transmuting energy with astral and elemental intention-connection-collaboration
Tony: Energywork and movement of chi/prana through breath, movement, and meditation
Hayli: Power of the kundalini and the present moment to shift-move-align-play
To register, pay in full online through Charlotte's website here or email [email protected]  There is a $50 non-refundable deposit; the rest is due at time of retreat opening ceremony, cash – check – paypal – or venmo.