May 13-15, 2022
With Renée Silvus
$400 private, $350 shared
Retreat is full–please email [email protected]

Spring bursts into vibrant fullness in mid-May. Locust trees bloom the air with fragrance, every tree and shrub is showing off, and the river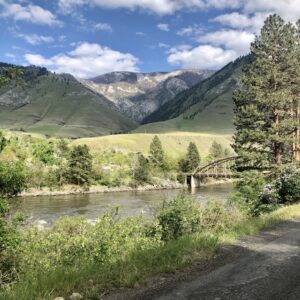 rushes by, lapping the high rocks.
It's a perfect time for Divine Reading.
Traditionally Lectio Divina is the practice of reading, meditating, praying on, and contemplating the same scripture, usually three times, allowing meaning to arrive, sink, and settle.
We will enter Lectio with shared practices and the geography of the Haven. Together we'll explore specific asana poses and sequences, beautiful poetry, and music. On your own you'll sit with the same tree, rock on the river, flowering beauty, or anything that invites you. All three times each—to read it, meditate, pray, and contemplate.
Everyone is welcome—this theme knows no levels or experience. We'll build on asana and meditation basics with guided practice, group support, and ample free time to practice, explore, integrate, and relax. The only requirement is to bring regard, curiosity, and intention.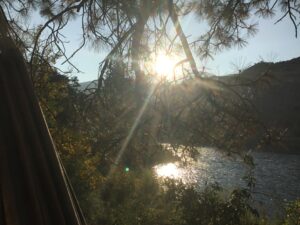 The weekend will be nourished by simple, Haven-harvested meals made by Brandy Henson. Retreat fee includes all meals Friday dinner through Monday breakfast.
Please arrive Friday between 4pm and 5pm Mountain Standard Time. We close Sunday afternoon with lunch and appreciations. We encourage guests to stay through Sunday night to quietly integrate the weekend and enjoy the Haven.
To hold your space, please send the following and a $50 deposit to Venmo here or directly to me at CUB or CUBx in McCall.
Retreat Registration Form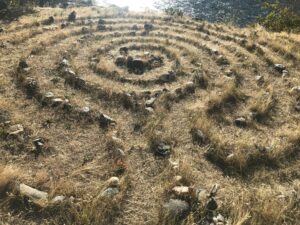 Name:
Phone:
Accommodation first choice:
Second choice:
Dietary requests and restrictions:
Questions and general requests:
Renée Silvus brings a blend of perspectives as an educator, coach, and facilitator. She offers coaching and classes with Luminaire, community space and events at Community Hub McCall, yoga classes at CUB Auxiliary, and retreats at Mavens' Haven. 2022 brings her ninth year of offering events at the Haven.
Brandy Henson brings a passion for wholesome, healthy food to the weekend. She is well-known for her delicious gluten-free treats and breads. You can expect your meals to be simple, well-rounded, organic, and free of common allergens. Brandy's alpaca wool, socks, and dryer balls enjoy local fame as well. Read more about Brandy and her alpacas here.