an Earth•Story•Spirit retreat
with Tracey Kindall
Friday, October 8 through Monday, October 11, 2021
$500
POSTPONED
Have you lost your way? Forgotten who you are at the roots of your being? Feeling called by a mysterious voice at the edge of your awareness? Haunted by the sense that something – large or small – is missing? Hungry for story, for roots, for spirit? Thirsty for the power of the WILD FEMININE?
Caring for the Wild Feminine will provide a safe nature-rich place for rest and restoration, as well as a nurturing retreat structure that will lead you back to the WILD FEMININE via connection to Earth, Story, and Spirit.
Over the long weekend, we will work alone and together to slow down, explore silence and the power of story, nurture mythic mind and imagination, sync ourselves to Earth's rhythms, define what it means to live "untamed" lives, and reconnect with our rich feminine heritage and inherent wildness.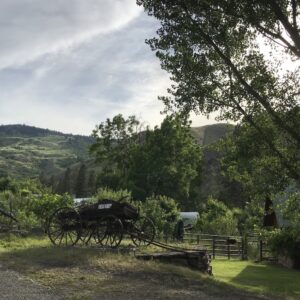 Lovely Mavens' Haven in Lucile offers a quiet refuge nestled on the banks of the wild Salmon River and overflowing with life and inspiration. This retreat will include a combination of nature immersion, group and individual activities designed to nurture imagination and intuition, discussion, periods of shared silence, and supportive guided meditations. Delicious and simple vegetarian meals will be feed your body and soul, and optional evening sauna sessions will offer a cleansing way to finish your days. During free time, the Haven and its surroundings offer ample opportunities for walking, labyrinth work, river gazing, napping, and space to create.
The retreat will begin at 2:00pm on Friday, October 8, and conclude Monday, October 11, after lunch at 1:00pm. All times are MST.
Guests are expected to arrive Friday afternoon by or before 2:00.
Retreat fee of $500 includes private accommodation and all meals Friday dinner through Monday lunch. View accommodations here. The weekend will be nourished by homemade vegetarian meals using the fall garden bounty of the Haven.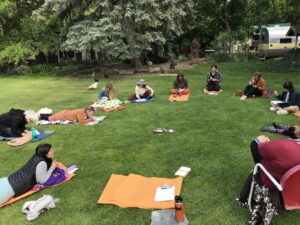 Click here to register and pay online.
While full online payment is preferable, check and cash (as well as Venmo) are also options. To discuss other payment arrangements or for more general info, contact Tracey at 208-271-6583 or email [email protected].
Testimonials from previous retreat participants:
"Wonderful, enlightening, loving,
perspective-shifting retreat!"
~
"Your calm grounded
energy is so comforting
and soothing. Thank you
for this gift of peace."
~
"You have influenced my
life in such a positive way,
to look at the world with
more color and vibrancy.
I am so glad to have you
as one of my teachers."
~
"Thank you for being
you and shining your
wonderful light into this
retreat."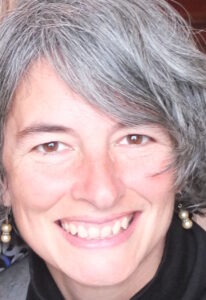 Your retreat guide will be Tracey Kindall, dedicated teacher & scholar of myth. Tracey holds an MS in Folklore from the University of Oregon, is a history teacher at McCall's internationally-accredited North Fork School, and is a mythology instructor for BSU's Osher Institute. She is also an RYT500 yoga instructor. For the past three years, Tracey has been developing and teaching classes, facilitating retreats, and coaching individual women through her soul-based project, Earth•Story•Spirit. The mission of Earth•Story•Spirit is to guide individuals back to a wild and authentic place of balance, belonging, and joy by cultivating deep connection to the Earth, to Story, and to Spirit. Tracey lives on three lovely acres in McCall, Idaho, with her human, furred, and winged family.