May 14 – 17, 2021
With Renée Silvus and Darcy Williamson
$395 private
$295 shared
Receive an entire weekend of support for your writing project at beautiful Mavens' Haven on the Salmon River. Immerse yourself in a weekend dedicated to your muse.
Jumpstart or make progress on your book, article, blog, or channel of inspiration.
Ask for fresh perspectives and receive help on specific challenges.
Be energized by others scribbling and tapping nearby.
Let someone else do the cooking and make the coffee while you write.
Turn off your phone and be completely present.
Join a cohesive and supportive group of writers on this special annual weekend. Use the spring warmth of Mavens' Haven and Lucile to walk and find inspiration. Receive healthy homemade meals, time to reflect, and best of all, quiet time to write—at a table, on the deck, in a sheep wagon, on the couch, under a tree….
We'll open Friday at noon with introductions, agreements, and lunch. After lunch we'll hear your pitch and requests for support, followed by dedicated time just to write.
Renée and Darcy will be available throughout the weekend for focused one-on-one feedback, discussion, and editing.
The retreat will conclude Monday lunch with add-on options to remain for personal writing time and/or receive further support. Leave with a plan, structures, and accountability from the cohort.
See full working itinerary below.
Guests are encouraged to arrive Thursday evening for no extra charge. Otherwise please arrive Friday by 11:30 am Mountain Standard Time.
Retreat fee includes accommodation and all meals Friday lunch through Monday lunch. View accommodations here. The weekend will be nourished by homemade meals using the stored bounty of the Haven and 7U Ranch in Lucile.
Add-on additional nights: $50/night private, $25 shared.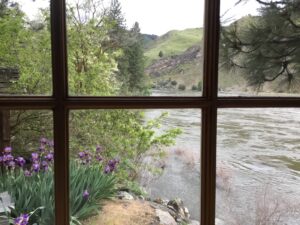 To register, copy/paste the following and send to [email protected].
Writing Retreat Registration Form
Name:
Phone:
Accommodation first choice:
Second choice:
Date range you wish to reserve your bed:
Dietary requests and restrictions:
Questions and general requests:
To hold your accommodation, please send a $50 deposit to:
Or drop at Renée's office at Community Hub McCall, 114 N. Third Street, McCall, ID.
Working Itinerary
Friday
9:00-10:00 Breakfast makings available
12:00 Open retreat: introductions, orientation, agreements, housekeeping
1:00 Lunch
2:00 Sharing: writing project pitches and requests
4:00 Walking and movement break~ get to know the Haven and Lucile
6:30 Dinner
7:30 Discussion, troubleshooting, or workshop
8:30 Guided meditation and shavasana
9:00 Quiet time
Saturday/Sunday
Waking bell per requests
8:30 Breakfast
9:30 Writing Time
1:00 Lunch
2:00 Writing Time
6:30 Dinner
7:30 Discussion, troubleshooting, or workshop
Monday
Waking bell per requests
8:30 Breakfast
10:00 Closing topics: requests, support structures and accountability
11:00 Writing and walking time
1:00 Lunch and closing
Renée Silvus brings a blend of perspectives as an educator, therapist, and coach. She offers courses, retreats, community-building events and celebrations with Luminaire. Her facilitator training is with Authentic World San Francisco and the Integral Center Boulder.  Currently she is working on a writing project based on Henry David Thoreau. 2021 brings her eighth year of offering retreats at the Haven.
Darcy Williamson is a published author of numerous cookbooks, histories, herbals, fiction, and more. Head Maven at the Haven, we are fortunate to have her nourishing arts and creativity in the kitchen this weekend.